Did you know it's pretty easy to make the outside of your house, apartment, condo or even business more inviting and fun for the winter? See below for ways to make your place more welcoming all winter.
Cozy Colours
Use colour outside your home and in your yard to make your place more attractive in winter. Colourful blankets on chairs will warm up your patio or balcony. Coloured lights at night will welcome you and your friends. Even something simple like a bright bird feeder in a tree will catch the eye and brighten the snowy landscape.
Lovely Lights
Turn your holiday lights into winter lights! Keep you lights up until March and help illuminate your neighbourhood during the darkest nights of the year. Lights affect how we feel about a place, so use light strategically to create something magical. More is not always better. Check out our ideas for lighting your home and important tips on keeping your light to yourself.
Dark Sky Friendly Lighting
Edmonton has a Light-Efficient Community Policy that strives to, among other things, minimize light pollution. When installing lights around your home, make sure you 'keep your light to yourself'. Angle your lights down, and pay particular attention to keeping them away from your neighbours' windows. Other than that, be creative!
Sheltered, Sunny Spaces
Did you know that a sheltered, sunny space can feel up to 15oC warmer than the ambient air temperature? That means that a patio or balcony can feel like +5oC when it's -10oC outside. Take advantage of spots like this in your yard to create cozy winter hot spots. Dig out your deck chairs, grab your colourful blankets, and enjoy a hot drink while basking in the sunshine. Fresh air in the winter is good for the body and soul!
For ideas on how to extend your patio season, check out our Winter Patio page.
Whimsical Art
Many people put out garden and balcony decorations in the summer. Why not continue that all year? Add some bright, artistic flare year round. Your whimsical side – and maybe your neighbours! – will thank you.
Winter-Friendly Amenities
If you're renovating your patio or balcony, think about how you'll use that space in winter. It's cheaper to add winter-friendly amenities like natural gas pipes for fire pits at the start. Also think about where you'll store seating and blankets, how you'll keep firewood dry, and where you'll put snow. Planning for all seasons takes a bit more thought, but you'll reap the rewards!
Landscaping
It might seem strange, but the best time to think about your winter yard is in the spring and summer. To have an attractive, interesting winter yard, you'll want to add plants in the summer that keep their colour and have texture. Red-barked willows, long yellow grasses, and evergreens look great year-round.
For suggestions about plant species and other winter garden tips, check out our guest blog Spring Gardening for Winter Beauty by NAIT landscape instructor Jennifer Jones.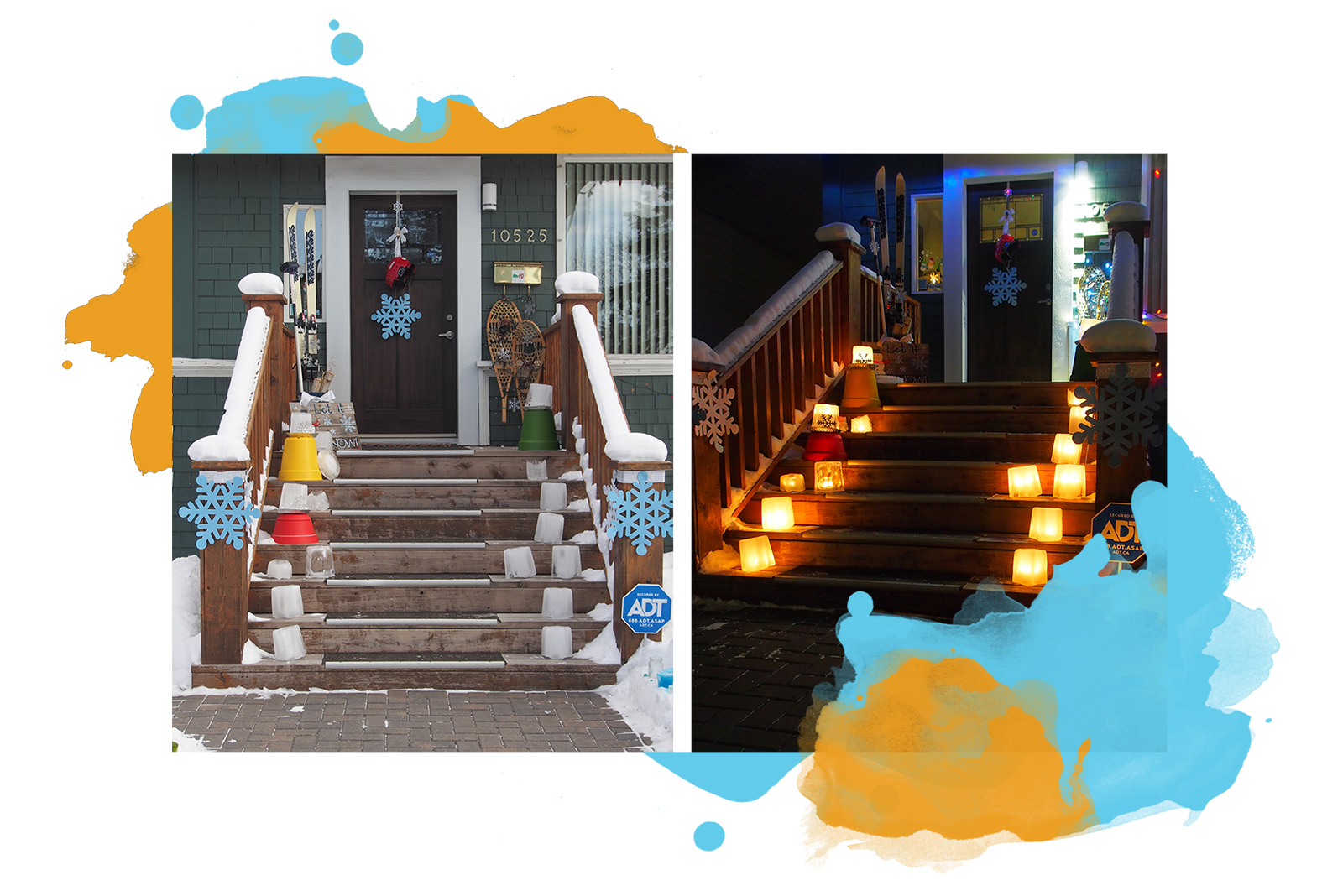 Winterscapes
Plants aren't the only way to make your yard interesting and fun in the winter. Use snow and ice to build sculptures, and add lights or ornaments to your trees. This is what we mean by creating a winterscape – adding something to brighten the winter landscape. Winterscapes add winter beauty, and sometimes even whimsy, to your neighbourhood.  
Looking for ideas? Check out the Front Yards in Bloom: Winterscapes website to see what other Edmontonians have created.
Take part in the Front Yards in Bloom: Winterscapes competition! There are three categories to enter: Winter Garden, Winter Art, and Winter Play. You can enter your yard, your neighbour's yard, or even get a community group together to create a winterscape for your neighbourhood. Held annually in January and February.
Wildlife-Friendly Features
Many different birds stay in Edmonton in winter, and most of them could do with a little help from us. Not sure what type of bird feeder to use? The Canadian Wildlife Federation can help! Check out their Feed the Birds This Winter post. You can be creative with the feeders, too. Why not make your own colourful icy feeders like the ones shown by Twig & Toadstool?
Fire Tips
If you are using a fire pit, whether fixed or portable, it must meet City standards. Only burn clean fuel, such as natural gas, dry wood or charcoal. Remember, it is illegal to burn rubber, plastic, or any material that generates unacceptable amounts of dense smoke which can be noxious, offensive or toxic.
Fire bowls are becoming more popular, too. They offer a smaller, more portable option, and still give off heat to warm your toes. Follow the same safety tips as you would for fire pits.
Keep everyone safe by following basic fire safety practices:
Always watch the fire and NEVER leave it unattended. If you're having a large group event, assign someone to be a fire attendant.

Make sure children and pets maintain a safe distance from the flames.

Have water or snow available to extinguish the fire.

Fully extinguish the fire before you leave.