COVID-19 NOTICE: New mandatory public health measures are in effect across Alberta to protect the health system and slow the spread of COVID-19. Learn more at edmonton.ca/COVID-19.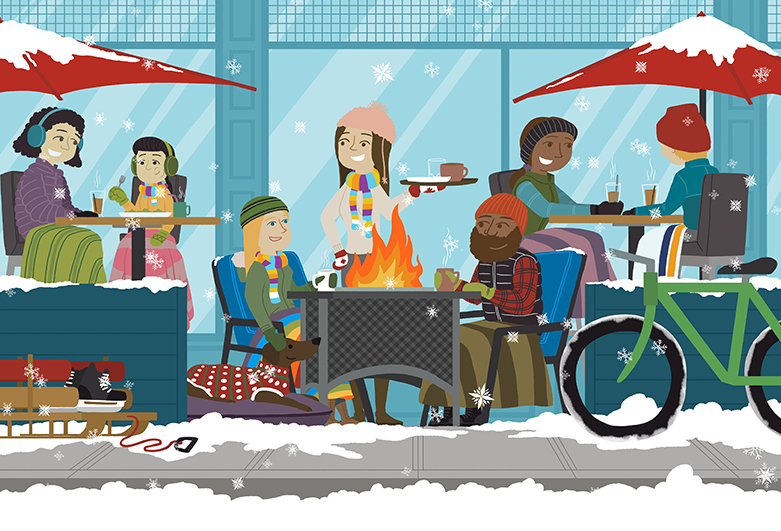 Leave the sandals at home, throw on your boots and parka, and head down to one of our #YEGWinterPatios this year. 
Winter Warming Kits
Be warm and help others stay warm. Pick up a Winter Warming Kit at one of the many participating locations. For $10, you'll get a WinterCity blanket or scarf, a postcard by local artist Jason Blower, an I Heart YEG Winter button, and lip balm.
Your $10 will go to the Boyle Street Community Services Winter Warming Bus program. The Winter Warming Bus has routes all over the city, making stops to connect with vulnerable folks, to hand out coffee, warm soup and sandwiches, to give referrals to other services, and to provide meaningful, friendly engagement. Your donation will provide five cups of warm coffee and go towards purchasing much-needed items like warm socks. 
#YEGWinterPatios Locations
Please check with individual locations for patios hours and specials. 
*Winter Warming Kit participating venue.
Polar Patio Club
Rocky Mountain Ice House and the Cask & Barrel host events on their patios throughout the winter. Watch the Twitter hashtag #PolarPatioClub to find out where and when the next event will be held.
Patio Design Tips
For Businesses
Why a winter patio?! Patios are a key way to add vibrancy to our city and help support the prosperity of businesses in winter. Even just putting out a few chairs, tables, and colourful blankets will catch people's eyes. Start small and see how many customers accept your invitation!
Need some ideas for how to extend your patio season? Check out our new Four Season Patio Design Tips! Many thanks go to Emma Sanborn, a graduate of the Luleå University of Technology Master's programme in Climate Sensitive Urban Planning, for helping us to create this great tip sheet.
Chez Vous
Why not create your own winter patio at home? We get lots of beautiful sunny days in the winter. The tip sheet has ideas that will work in your yard, too. Find a sheltered spot, dig out your deck chairs, grab your woolly blankets, and enjoy a hot drink while basking in the sunshine.
We also have spectacular Northern Lights at night. Enjoy a mulled wine under nature's light show, snuggled up in a blanket by your backyard fire. You could even add some fairy lights to make your winter yard sparkle.
Share your #yegpatio with us on Twitter!