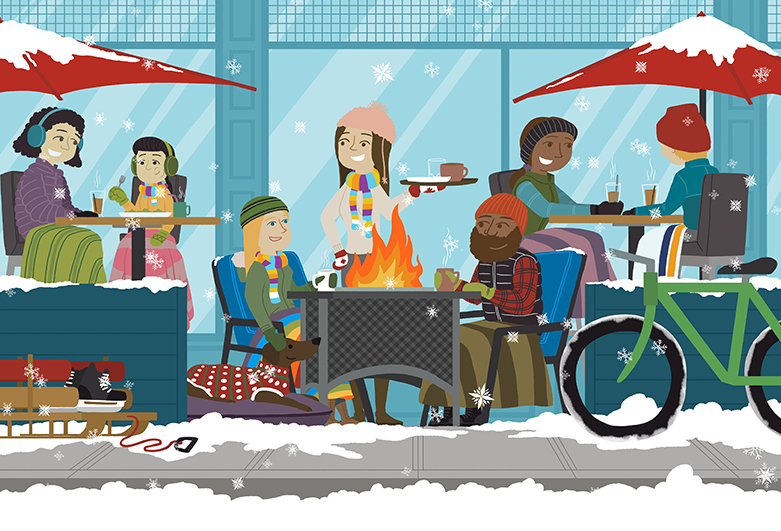 Leave the sandals at home, throw on your boots and parka, and head down to one of our #YEGWinterPatios!
#YEGWinterPatios Locations
We're happy to share all the winter patio locations we know about. Some patios are open daily and others are weather-dependent. Please check with individual locations for patios hours and specials. 
Greenhouse at the Lake, in the Hawrelak Park Pavilion 
Cafe at The Valley Zoo
Urban Farm Restaurant at The Valley Zoo
Polar Patio Club
Rocky Mountain Ice House and the Cask & Barrel host events on their patios throughout the winter. Follow them on Twitter @PolarPatioClub to find out where and when the next event will be held.
Patio Design Tips
For Businesses
Why a winter patio?! Patios are a key way to add vibrancy to our city and help support the prosperity of businesses in winter. Even just putting out a few chairs, tables, and colourful blankets will catch people's eyes. Start small and see how many customers accept your invitation!
Winter Patio Grant – Apply now!
The Winter Patio Grant provides up to $2,000 per business to help with eligible winter patio expenses, such as patio furniture, heaters, blankets and lighting. Applications will be accepted until December 8, 2023 at 11:59 p.m. Once the application period closes, they will be reviewed on a first come, first served basis. All applicants will be notified by December 22, 2023.

Visit edmonton.ca/business for information on business licences and patio permits, and edmonton.ca/patios to apply now for the Winter Patio Grant.
Need some ideas for how to extend your patio season? Check out our new Four Season Patio Design Tips! Many thanks go to Emma Sanborn, a graduate of the Luleå University of Technology Master's programme in Climate Sensitive Urban Planning, for helping us to create this great tip sheet.
Chez Vous
Why not create your own winter patio at home? We get lots of beautiful sunny days in the winter. The tip sheet has ideas that will work in your yard, too. Find a sheltered spot, dig out your deck chairs, grab your woolly blankets, and enjoy a hot drink while basking in the sunshine.
We also have spectacular Northern Lights at night. Enjoy a mulled wine under nature's light show, snuggled up in a blanket by your backyard fire. You could even add some fairy lights to make your winter yard sparkle.
Share your #YEGWinterPatio with us on Twitter!