The domes are out again! This year, you'll find nine of them in the river valley parks at:
Hawrelak Park (2) – Shelter 2 ice surface
Victoria Park (2) – Next to the IceWay
Rundle Park (3) – Next to the IceWay
Muttart Cafe Patio (2)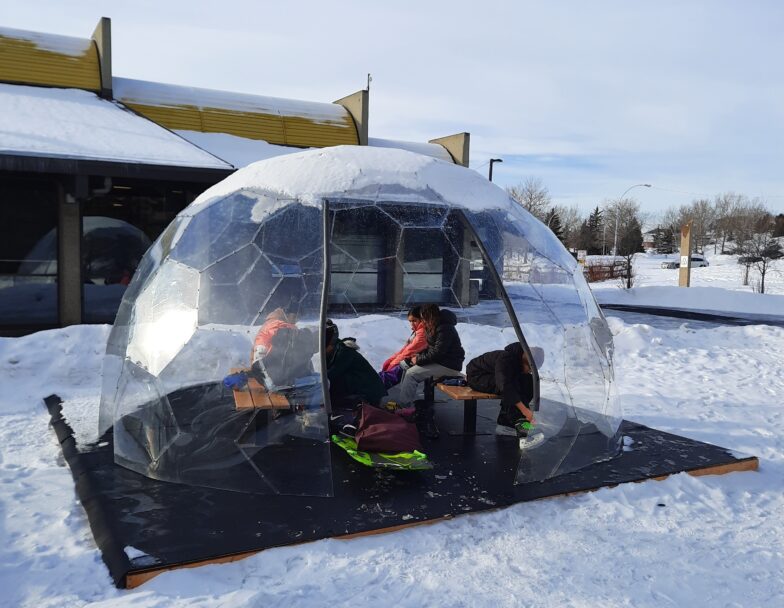 Do you remember different warming huts in the river valley? Then you must have tried out the Local Warming ones as part of a warming hut pilot project in winter 2018/19!
Local Warming pilot project
Local Warming was all about embracing our winter. By placing warming huts strategically throughout the river valley, we aimed to help Edmontonians reconnect with their community, the city, and nature year round. In winter 2018/19, they could be found in Hawrelak Park by the sheet ice and in Victoria Park by the Cricket Club House.
How did they work?
The huts gathered and retained heat from the sun using passive solar principles for heating – like a greenhouse! This means that they collected and held onto heat from the sun without the need for electricity. The huts' main windows were oriented south so they captured the heat and retained it in the thermal mass of their concrete floors, and their insulation prevented the heat from escaping.
What did we learn?
We heard loud and clear that Edmontonians loved small warming huts in our river valley! They added to the winter experience and gave people places to warm up for a bit before getting back out and playing longer on the ice. We also learned from some placement and storage challenges.
Thank you!
We'd like to thank Edmonton-based designer Danielle Soneff for working with us on the project. Her creativity and insights were invaluable. The City's river valley staff also worked hard on this project. Many thanks to all involved!