What to do? 
Birdwatching
Winter's a great time to watch for birds in and around Edmonton. The Edmonton Nature Club has lots of local birding information, and even hosts winter field trips to look for feathered friends.
Freezing bubbles
Yes, freezing bubbles! The temperature has to be at least -10°C, but colder is better. There are many recipes online, but here's one to try: one part water, four parts dish soap, and a dash of light corn syrup. Try blowing the bubbles onto a table or other cold surface and watch ice crystals form in them.
Full-moon walk
Go for a walk by the light of the moon. The full moon seems extra bright in winter when its light shines off the snow. Bundle up and have a magical outdoor experience.
Ice Fishing
For ice fishing spots around Edmonton, check out the recommendations on the Tri-Region Tourism page.
Kicksledding
Used in Scandinavian countries for getting around in the winter, kicksleds can also be great for festival fun and winterfest races. Community groups can borrow kicksleds from their Neighbourhood Resource Coordinator (contact 311 to find your NRC).
Scavenger hunt  
Everything looks and sounds different in the winter. Head to a local park or the river valley to find things you can't see in summer – animal tracks, icicles, frozen ponds. What will you find in our winter wonderland?
Stargazing
Winter is a great time for stargazing – the sky gets dark earlier, the stars are brighter, and if you're lucky, you'll see Northern Lights. Try to find a spot away from the streetlights for the best view. The Observatory at the Telus World of Science and the University of Alberta Observatory both have public viewing hours.
Outdoor winter parties
For more active outdoor ideas, see the Frosty Fun section of the Be Social Toolkit.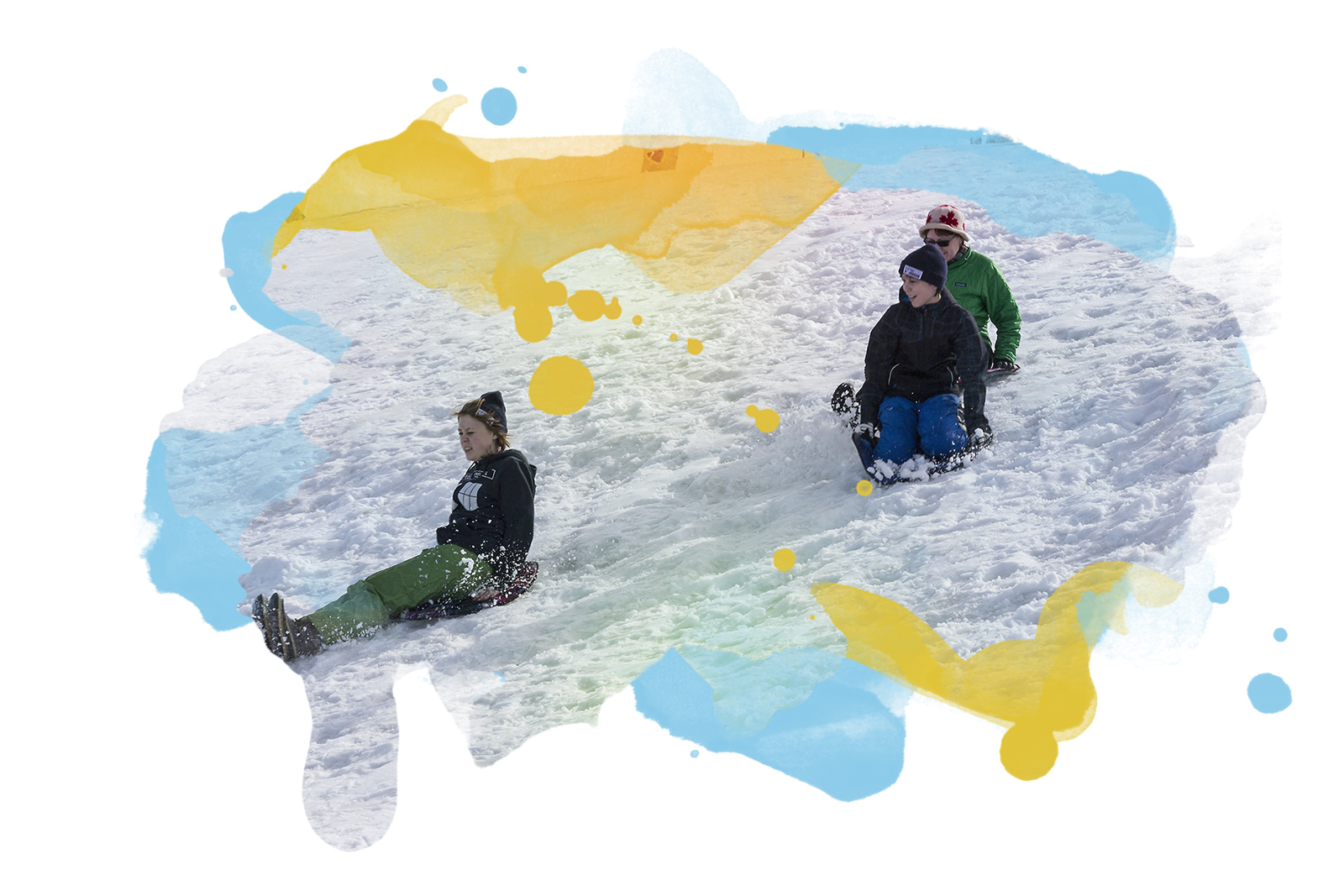 Around Edmonton
There are several parks and wilderness areas close to Edmonton that have great facilities for winter activities. Why not plan a day trip?
Cooking Lake-Blackfoot Provincial Recreation Area
Cooking Lake-Blackfoot Provincial Recreation Area offers cross-country skiing, dog sledding and skijoring, fat-tire biking, skating, snowmobile areas, and snowshoeing. More information is available on their Winter Activities page.
Elk Island National Park
Skate, explore, stargaze and camp at Elk Island National Park! Take your skates to the Astotin Lake Area and enjoy skating around an island. Skating loop opens in January (weather dependent). Explore Elk Island's many trails. Snowshoes can be rented from the Astotin Lake Theatre (9:30 am – 4:30 pm, 7 days a week). Learn about the starry night sky and watch for Northern Lights at a Parks Canada interpretive program. Try out winter camping this year at Astotin Lake campsites. Visit the website to book your spot (fees apply).
Strathcona Wilderness Centre
The Strathcona Wilderness Centre is a great place for cross-country skiing and snowshoeing. The centre has a rental shop with cross-country skis for adults and children, baby gliders (ski pulk), and snowshoes.