Is there anything more Canadian than sitting outside for a drink or a meal during the winter? The idea gained local momentum as the pandemic pushed people outside, and fortunately, lots of Edmonton winter patios are here to stay.
Café Bicyclette is a bit of a pioneer in the winter patio landscape, with their popular patio space being used year-round for the past decade.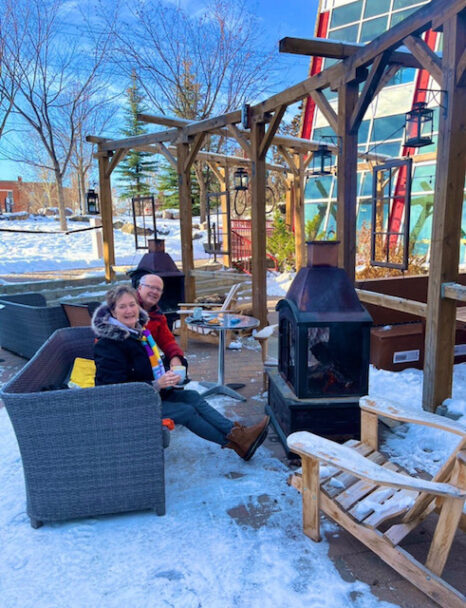 "We were really the first to go all out on it," says Daniel Cournoyer, General Director of La Cité Francophone, which owns and operates the café.
Cournoyer has long been an advocate for our coldest months, and he sat on several committees during the early development of Edmonton's WinterCity Strategy.
"I was just so grateful to see Edmonton embracing winter, as tough as it can be," he says.
This same ethos is woven into the fabric of La Cité Francophone, which hosts a variety of winter events and activities, including Flying Canoë Volant, one of the city's most popular festivals.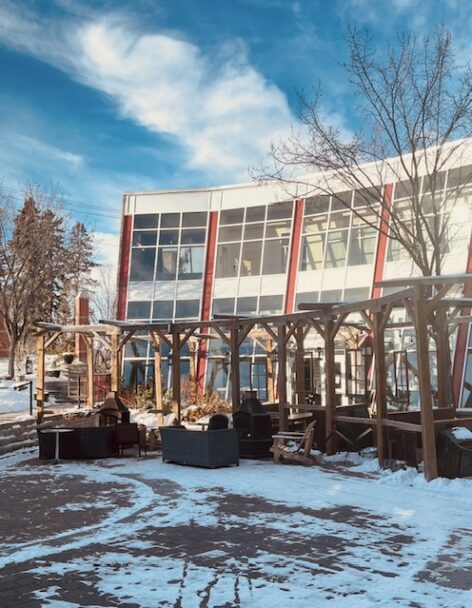 La Cité Francophone's multipurpose building wraps around a vast courtyard, tucked down and away from street traffic, perfectly situated to control wind and create a warmer microclimate. The setup uniquely positioned Café Bicyclette to open a winter patio without the challenges posed by sidewalk patios, such as finicky setup, traffic, and requirements from the City.
While the patio has always been successful, it saw an uptick in visitors during the height of pandemic restrictions. "They knew they could come in winter and sit outside," says Cournoyer. "It was a way to socialize safely."
The operators of Little Brick, a heritage house-turned-café in Riverdale, were among the restauranteurs who opened newer winter patios for just that reason.
"When the pandemic happened, we pivoted pretty quickly and made sure to put some investment into our winter patio," says Carmen Winkler, Managing Partner of the River Valley Company, which owns and operates Little Brick. "It was pretty important to ensure when you couldn't dine in, you had space to dine out."
Especially when the weather nears a balmy zero, people flock to the two patios. Down at Café Bicyclette, neighbours pop by to chat, and folks bring their dogs down to the pet-friendly "pawtio." Little Brick hosts winter cyclists and walkers out enjoying the river valley trails.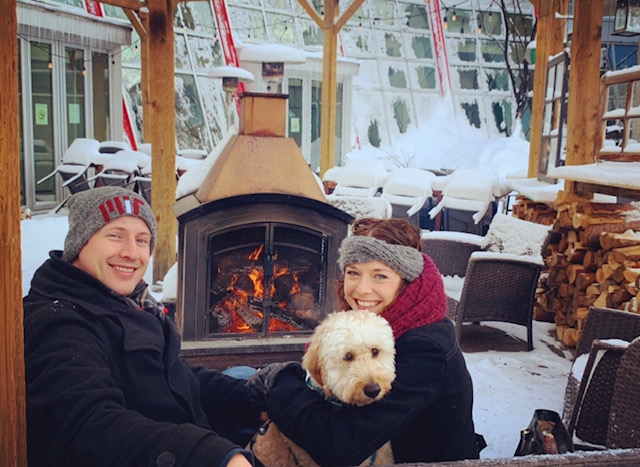 "People make it their pit stop because all the trails kind of lead here," says Winkler. "Or we're a halfway point, so people will stop in and grab a coffee, grab a scone, grab a quick lunch and continue on."
But running a winter patio comes with challenges, from weatherproofing to staffing to costs.
"It sounds very romantic, but on the practicality side, it's a little bit of a slog," says Cournoyer, laughing.
Wood prices have skyrocketed over the past few years, but Café Bicyclette recently found a way to cut costs and reduce waste by picking up kiln-dried wood that would have otherwise been destined for the compost heap.
Little Brick faced similar challenges, finding early on that the cost of propane was prohibitive. "We would go through two tanks a day," says Winkler. The café, which was already running an indoor wood fireplace for optimal hygge, pivoted to the same for outside.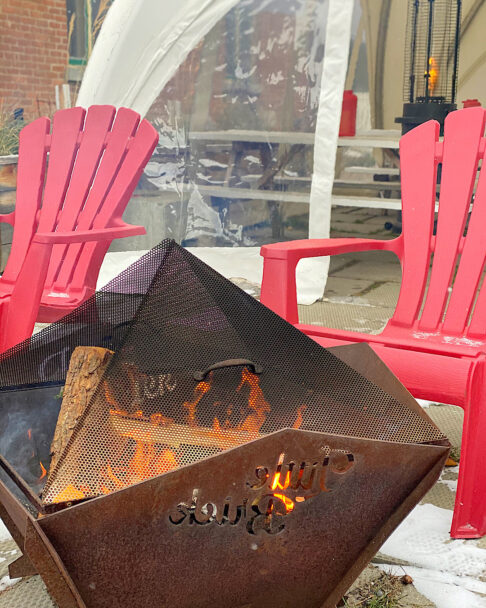 While the fires still come at a cost, the ambience is priceless. "I've always said it's worth it," says Cournoyer.
"I think, naturally, fire gathers us," he says. "You leave a little smoky, but people don't seem to mind at all."
While some restaurants shuttered their winter patios as pandemic restrictions lifted, Café Bicyclette and Little Brick have no such plans. Their patios will remain open year-round, providing Edmontonians with cozy places to gather on warmer winter days.
"We started the winter patio in 2020, and it will forever and always be a thing for us," says Winkler.
Cournoyer sums it up succinctly: "For us, it's a staple."
Winter Patios For The Win…
Have you been to the winter patios at Café Bicyclette or Little Brick? If not, take yourself on an adventure!
Been there and enjoyed that? Here is a shortlist of more winter patios to check out! Click the links below for hours of operation and contact information.
Cask & Barrel: This sweet spot on 104 Street, just off Jasper Avenue, features a simple food menu and all the drink options you desire.
Fu's Repair Shop: Cozy lantern décor is carried from inside to the patio, where you can enjoy cocktails, dumplings and dim sum just steps from the High Level Bridge.
Odd Company Brewing: The outdoor atmosphere is on point with cozy strings of lights and sweet picnic tables. Enjoy the signature OCB Animal Burger and some refreshing local pints!
Rocky Mountain Ice House: Located right on Jasper Avenue, this patio is perfectly positioned for happy hour. Take a load off with comfort food and daily drink specials.
Riverside Bistro at Courtyard by Marriott: You can't beat this river valley view! Perfect for a romantic evening out.
The Colombian, Parkallen: Cozy up with great coffee (or tea), pastries and small bites under a big cozy tent.
The Next Act: Grab a burger and pint at this neighbourhood favourite, located right on 104 Street, just off Whyte Avenue.
Tiramisu Bistro: Enjoy a private moment and some tasty treats in these sweet little domes on 124 Street.
Urban Green Café by River Valley Adventure Co.: Cozy up with an organic hot chocolate and a beautiful river view!
These are just a few of our favourite winter patios! For more listings, check out the #yegwinterpatios page on our website. Which winter patios do you recommend? Let us know @wintercityyeg on Instagram and Twitter, or at WinterCity Edmonton on Facebook.