The City of Edmonton's Historian Laureate and visual artist Marlena Wyman shares a look at our winter history through art.
---
Edmontonians are hardy and creative souls; we have a kinship with winter and we have always found ways to celebrate this season's fresh air and beauty.
A quick online search reveals many stories about historic Edmonton's fun and varied winter activities, on websites such as Edmonton City as Museum (ECAMP) (search skating, skiing, winter fashion, and Christmas) and Transforming Edmonton (search Winter Fun in Edmonton).
Outdoor sports and festivals have always been an invigorating part of winter life, and today's Edmontonians enthusiastically continue that tradition. However, winter is also a season that inspires reflection, contemplation and creativity. Winter can bring us a gift of slowness. Its clarity and silence are meditative and calming. I am a visual artist, and winter is often my most creative time.
"Wisdom comes with winters."

Oscar Wilde
A major source of inspiration for my artworks comes from research in archives. The photograph that inspired this painting is of University of Alberta students skating on Whitemud Creek in Edmonton, ca. 1928. (Harry Chritchley collection at the Glenbow Archives #M-2879-41.)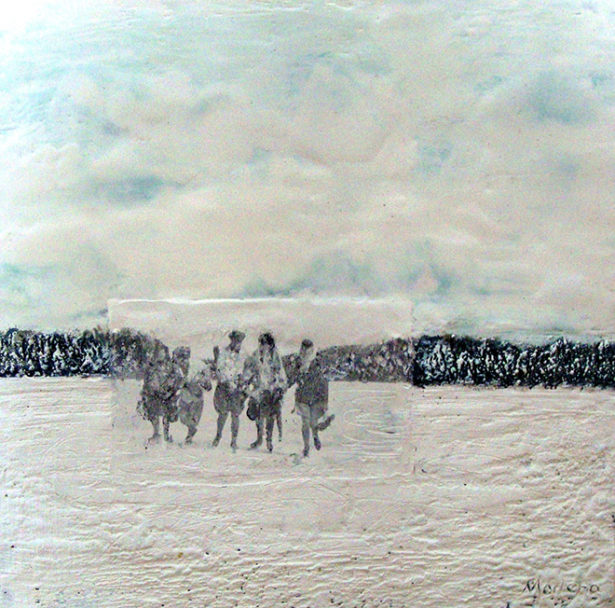 As Historian Laureate, I recently curated an exhibit of sketches at the Prince of Wales Armouries and City of Edmonton Archives titled Sketching History: Rediscovering Edmonton's Architectural Heritage through Urban Sketching. The exhibit highlights Edmonton's architectural and natural heritage. Along with contemporary sketches by members of Urban Sketchers Edmonton, I included paintings from the City Archives collection. Although many of us are aware of the amazing resource of historic photographs at the City Archives, the Archives' art collection is lesser known. Two winter images from the Sketching History exhibit are shown below.
The first sketch below is mine – one that I made last winter of the elegant historically-designated Molstad House, built in the Bonnie Doon neighbourhood in 1912. Depending on the day, sketching outdoors in winter can mean bundling up and finding a calm, sun-warmed location to sketch, or sketching outdoors quickly before ink and fingers freeze up, and finishing the sketch in the studio. One of the joys of being outdoors in winter includes snuggling into a blanket in front of the fire afterward. It is interesting that the word "cozy" conjures up our coldest season.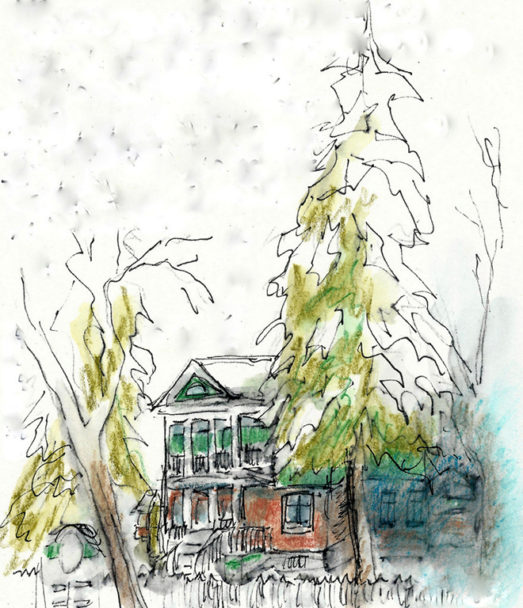 This second painting was painted by Miss H. Vincent Foster in 1931. Miss Foster was active in the Art Club of Edmonton, and was one of the members who revived it after many years of inactivity. In her iconic river valley scene of the Rossdale Power Plant and Legislature, she has beautifully captured the feeling of a 30 ° below zero day in Edmonton.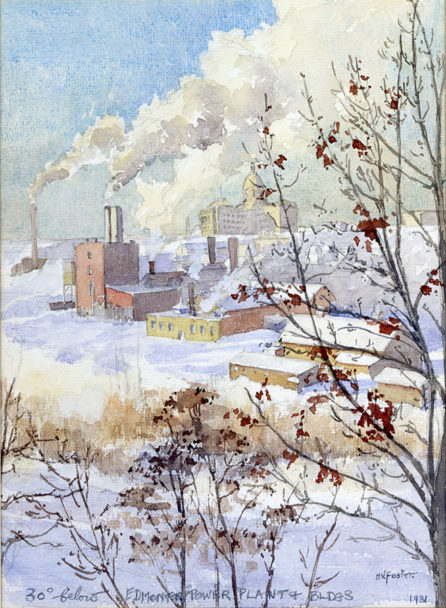 All of the seasons provide inspiration for artists, but winter is a season of singular, elegant beauty. I recently visited the City Archives to further research winter inspired paintings. I recommend viewing the Archives art collection; a delightful experience in any season.
Reginald Turner's paintings portray Edmonton as he recalls it from the 1940s. After he retired from the City of Edmonton Fire Department in 1989, he discovered the joy of watercolour painting. He often printed his watercolour paintings as Christmas cards.
This painting depicts a historic wintry street scene of the Dominion Bank, Yale Hotel and Royal Bank on Jasper Avenue and 100 Street after a heavy snowfall (all of these buildings have since been demolished). More of Reg Turner's paintings can be seen online and in person at the City Archives.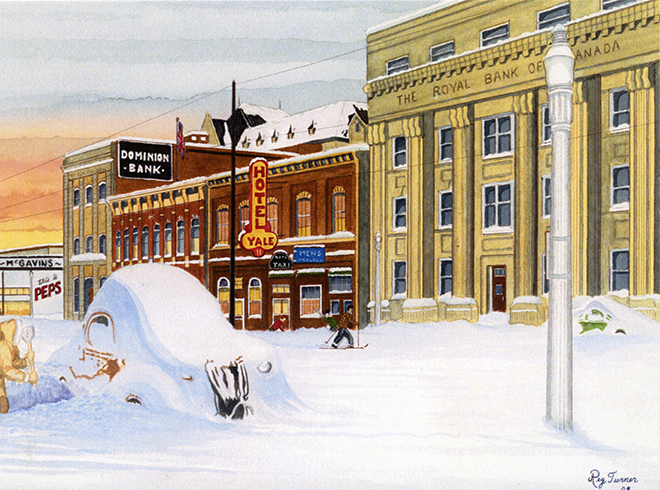 Ella Richards was born in England and moved to Edmonton, Alberta, Canada in 1913. She started to study art in 1940 and worked in silkscreen, etching and watercolours. She became a member of the Edmonton Art Club in 1947 and the Federation of Canadian Artists in 1948. Ella has captured an overcast winter day with both Edmonton's urban and natural setting along the river valley in this silkscreen print (serigraph).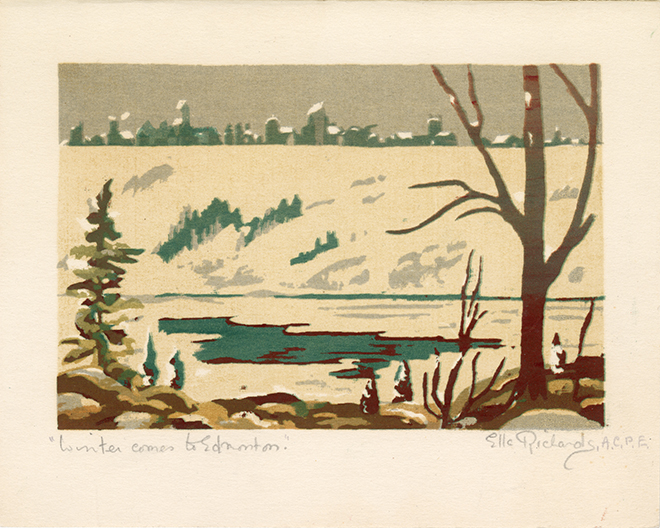 "Snow was falling,
So much like stars
filling the dark trees
that one could easily imagine
its reason for being was nothing more
than prettiness."

Mary Oliver
This 1936 pastel painting by M. Kathleen Haufman evokes a sharp breath of air with the icy palette of winter's exquisite whites, blues and greys. Kathleen was an Edmonton artist, but I was not able to locate further background about her.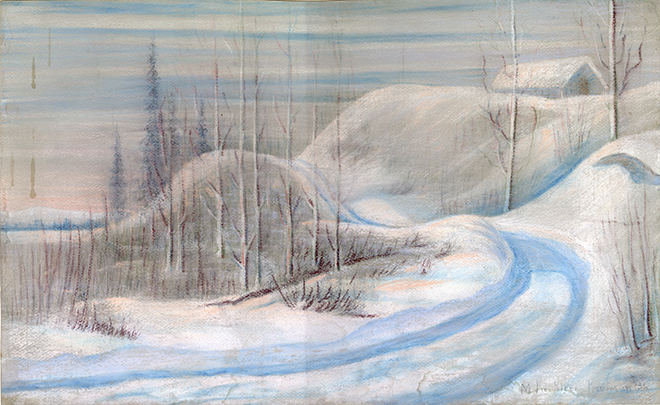 Never are voices so beautiful as on a winter's evening, when dusk almost hides the body, and they seem to issue from nothingness with a note of intimacy seldom heard by day.

Virginia Woolf
Winter is a time of silence blanketed by snow, but when sounds cut through the silence, they are sharp and clear: a Chickadee's call in the frosty air or the echo of a hockey slap shot in an outdoor rink. A friend recorded his walk on a cold winter's day in Edmonton. The snow that has a particular sound of squeaks and creaks when the temperature goes below -10 degrees, and different depths of snow produce different squeaks. You'll notice the long winter shadows in this video too.
Winter refreshes the body and the soul. Be inspired by it – walk in it, paint it, write a poem, breathe it in.
---
Marlena Wyman is the City of Edmonton's Historian Laureate and a visual artist whose art practice is inspired by history.