Newcomers break out of hibernation and hit the snow with Elk Island's winter warriors.
Albertans have an extra layer of skin, like a callous, that protects us from the psychological chill of winter (if not the frost-bite). Having been there and done that, we rarely blink at stories of freezing rain and white-out blizzards. While we pat ourselves on the back for dressing in layers as we twist the icicles from our frozen eyelashes, we might even take winter a little for granted sometimes.
For newcomers to Alberta, however, it can be hard to find the right words to express the awe, the admiration, and the bone-chilling splendour of it all. On Saturday, February 23, the winter warriors from Parks Canada made the trek from Elk Island National Park to help bridge the gap with a Learn to Winter Workshop for new Albertans. Inside a warm classroom at the ASSIST Community Services Centre, students from the Language Instruction for Newcomers Course (LINC) had the chance to get up close and personal with their new winter vocabularies.
"Newcomers can't access winter activities if language barriers make them unable to get the information," explains Fiza Abedin, Lead Instructor and Program Coordinator for LINC. "We share knowledge about living in Edmonton as part of developing English language skills. When we give them experiences like this our students gain the confidence to connect and participate in the community."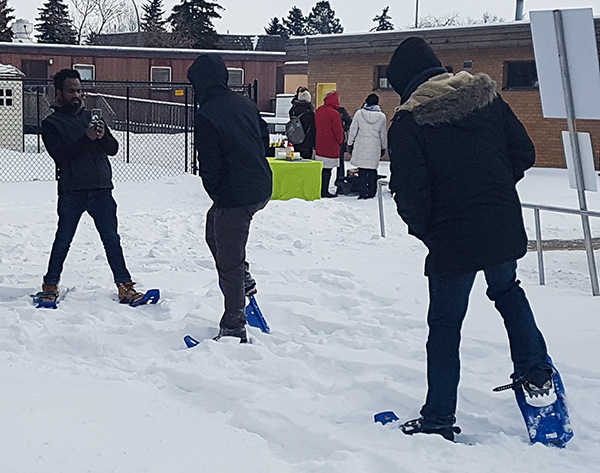 Asked about some of the unexpected challenges of Alberta's signature season, one student called out "Getting your car to start." Without missing a beat, another voice chimed in with "Or getting it to stop again…" Judging from the quick laughter, these newcomers are acclimatizing to the most important winter survival skill of all – having a stone cold sense of humour.
Their winter fears are natural. Many immigrants from warmer climates worry about their health in the cold, dry air. They are scared of slipping on icy sidewalks and concerned about the high cost of winter clothing. They shiver over frost-bitten fears of getting stuck outside at night in the cold.
To settle their nerves, Parks Canada ambassadors Amy, Emma and Elise brought enough winter cheer to thaw a glacier, leading a show and tell session about winter activities and the wide variety of wildlife that call Elk Island home year round.
Assisted by Stephanie and Brian from Mountain Equipment Co-op, they demonstrated how we upright mammals can learn a few lessons from our fur-coated friends. Borrowing fashion tips from rabbits, foxes, and even the mighty bison, newcomers learned how to dress in proper layers to protect against wind, wick away moisture and stay warm and dry in any weather.
Although at least half of the students had travelled to Banff and Jasper in the summer, many were surprised to hear about Elk Island National Park being so close to the city. With $14 snowshoe rentals (free for children), guided hikes, and endless kilometers of scenic cross country ski trails, Elk Island is a great place to soak up mother nature's glory without the half day's drive.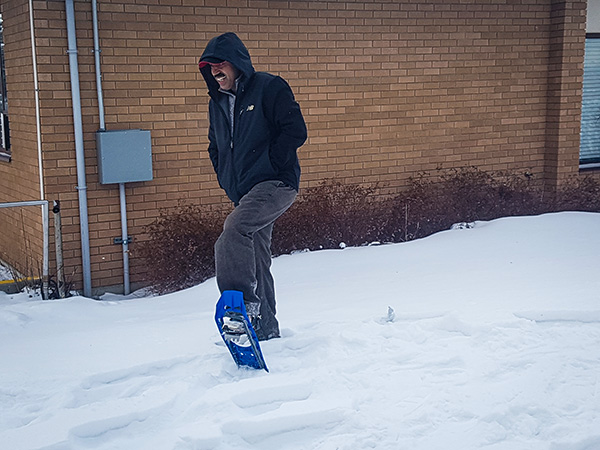 Just as the class was dreaming of making snow angels beneath the stars of Elk Island's dark sky preserve, it was time to head outside for some fresh air and fun. Emboldened with knowledge – if not exactly ideal footwear – students strapped on the snowshoes and high-stepped it through a cold February wind. With the thermometer reading a frosty -20°C, new friends crowded around a campfire to roast apples. Nothing turns us back into children like playing in the snow and cooking food on a stick in the fire. For a few moments, the cold faded into the background and laughter lit the faces of these new Albertans as they shared stories around the dancing flames.
For Mahdokht, an Iranian woman who immigrated to Canada a few years ago, winter back home was just a fleeting snow that quickly melted away. But like many of her fellow students, Mahdokht has gone from surviving to thriving this winter. "Seeing the snow falling. At first I was afraid, but now I love winter. Winter makes you feel…" Mahdokht pauses, searching for the right word, before touching her heart, "It makes you feel something beautiful inside."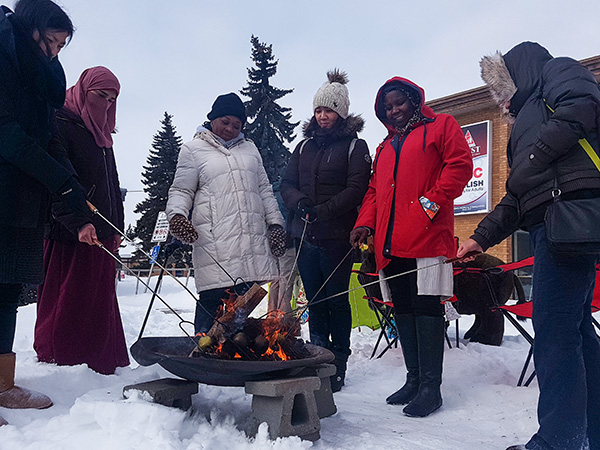 That's a lesson many of us forget as we scrape ice from windshields and catch our snow shovels in those crooked sidewalk cracks. It doesn't matter whether you grew up in this frozen wonderland of frost or just arrived to start a new chapter. There's something about the sun sparkling across the snow that can still take your breath away.
---
Dress for winter the way animals do.
Not all mammals get the luxury of hibernation.
Borrowing a few tricks from the critters who brave the elements of Elk Island National Park year round can keep you comfy in the great white north. You can move like a fox, wick away water like a beaver, and bundle up like a bison with these winter weather fashion tips.
It's all about that base.
The Dutch have wooden shoes, Canadians have long johns. Starting with a snug, dry base layer will help keep you dry on the inside, where it counts the most. Avoid cotton at all costs – long underwear, snug fitting tops and socks made from polyester or Merino wool keep warmth in and moisture out.
Get fleeced for the win.
Making yourself into a winter sandwich means picking the right fillings. Opt for fleece pants and a light puffy jacket or wool sweater. This layer of middle skin is like insulation, creating an air cushion that guards against wind and cold. It should be nice and thick, creating a buffer of warmth without cramping your mobility.
Crawl inside your shell.
With checkmarks for dryness and warmth, the outside layer is all about sealing you off from the elements. Seal skin may be out of fashion, so look for wind and water-resistant materials like Gore-Tex. Don't forget to cover up your ankles, head, hands and wrists. Leaving all that skin and bone exposed is like turning up your furnace but leaving all the windows open.
If you feel warm and toasty at the start of your hike, you've gone too far. Remember that your body warms up as you move, so feeling a little chilly at the beginning is a good place to start. You can add and remove layers as you work up a sweat.