In this guest post, Jeremy Derksen (@jdavidderksen) talks about what it's like to see our city with fresh eyes.
Visiting media see a side of Edmonton locals sometimes forget to appreciate.
Crouching among the snowy aspens, Patricia Rodriguez, Mauricio Schroeder and I crept slowly, noiselessly closer for the perfect shot – keeping the trees between us and the large bison in the clearing ahead. Just as their shutters clicked, a pack of coyotes began a long, baying chorus, raising the hair on our necks and forearms.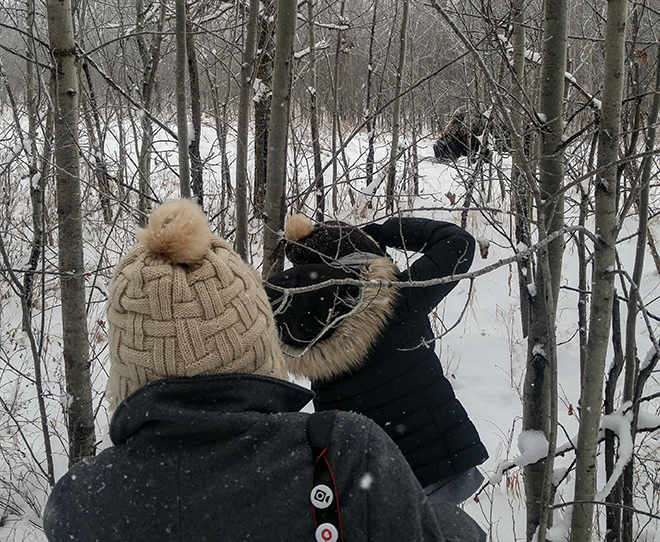 The two Instagrammers (@deerpao and @mauricio_schroeder, respectively) from Mexico were in Edmonton on a media visit, and I had been tapped to show them around. This was our #NatGeo moment, one which Schroeder – an avid wildlife photographer – later described as the "culmination of a dream."
I'm fortunate that I get to work with a lot of visiting media, here to experience Edmonton's best. Seeing it from their perspective always leaves me with a newfound appreciation for the city. It's something I often wish I could share with more Edmontonians – especially in winter.
Why winter? Because that's when Edmontonians get most down on our own city. Blinded by the drudgery of daily commutes, the darkness of winter solstice and the discomfort of the dipping mercury readings, we forget to see the beauty in resilience, stubbornness in the face of the cold and the creative mingling of a group of people united by the shared desire for warmth, good cheer and entertainment to help get through another long, dark night with smiles on our faces. But that's exactly what others see.
"It's a hub of makers and risk takers, of dreamers and doers, a place where ideas come to be," writes Kacie McGeary of Passion Passport, in her article Why You Should Visit Edmonton. "At its core, Edmonton is an arts city … a center for culture, education, arts, culinary excellence, sustainability and outdoor adventure."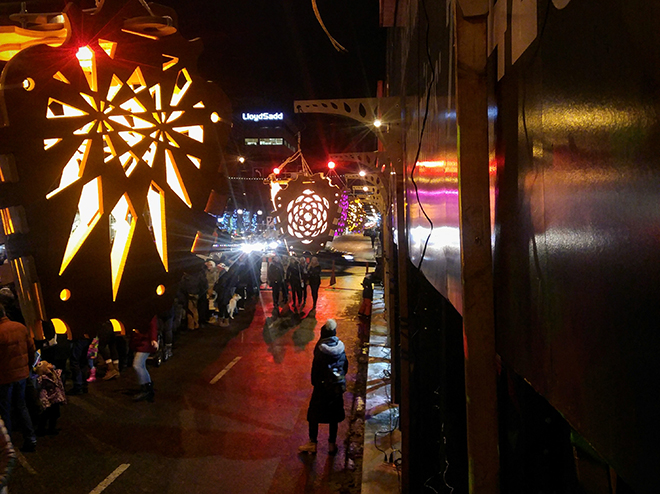 Those words ring true. I remember staging cameras on the plateau at Grant Notley Park, as Kendall Barber (cofounder of Edmonton shoe company Poppy Barley) skied along the Riverside nordic trails as we filmed for KLM's inflight video "Little Secrets of Edmonton, Winter edition." Here was a perfect convergence of Edmonton's outdoors and artisanal scenes.
Another time, another group of Mexican media and I enjoyed a whirlwind day indulging in warm baked goods, fatbiking and exploring Ice Castles that left us all enamoured with the snow and ice and natural beauty of the city. Carlos Lang (@carecito), one of the guests, simply described it as "an epiphany."
Winter is something Edmonton does really well – and it all comes from perfecting the contrasting pleasures of adventure and exotic experiences with warm comforts and good food. As foreign as monsoons for us, is winter for people from certain parts of the world. Seeing the beauty of the season and our festive winter culture from my guests' eyes is something of which I will never grow tired.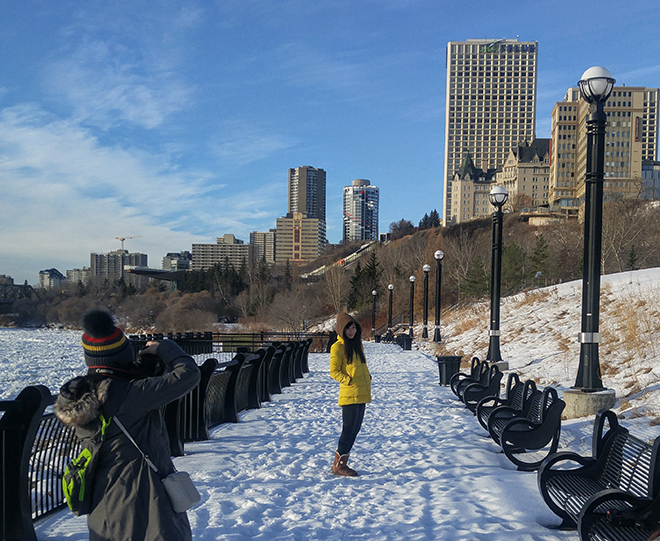 How to winter in Edmonton like a media guest, 101
FASHION
Function doesn't have to be unfashionable
When you're outdoors in winter, artistic vision comes second to warmth – even for a film crew. BUT – there are a lot of winter outfit choices that satisfy both. Think faux fur, hoods, matching accessories – scarves, toques (or beanies/caps/hats, if you're not from Canada), puffies (slang for down jacket), base layers (the layer you wear against your skin) and warm wool or other water-wicking fabrics. Lots of wardrobe changing opportunities. Embrace the layers.
FOOD
Dessert has no calories in winter. Refuel often.
This one is a no-brainer and it's so easy in Edmonton, with its amazing food scene. Getting active in winter is the best possible balanced diet plan – burn calories outdoors staying warm and moving, and make room for another helping.
FESTIVALS  & CULTURE
Long winter nights and that craving for light and warmth, and something to do when it's cold, have engendered some amazing local experiences – like the magically lit aura of the Flying Canoe Festival, the crystallized sculptures at Silver Skate Festival, or the way we cling to the Oilers' playoff hopes until the last buzzer.
FEAR
Finally, don't be afraid of winter. Winter is not inherently scary. Like any time you're outdoors beyond the concrete bubble, you should respect the elements and the environment you're in. Plan ahead but don't be scared off. Winter adventures can be some of the most challenging, but they're all the more enriching for it.