Winter cycling. When you think of the experience, you may think of two extremes:
A wonderful white world, with gently falling snow surrounding you, Narnia-esque lampposts lighting your way as you glide silently through a winter wonderland. A stress-free commute, away from the traffic and bustle of city life.
Or, brown sugar snow beneath inadequate tires as you skid and slide on slippery streets, too close to large vehicles whizzing past you, all the while freezing your patootie.
Fortunately, the reality falls somewhere in between, and when you're properly dressed and equipped, the experience can be far more similar to the former.
Why Cycle in the Winter?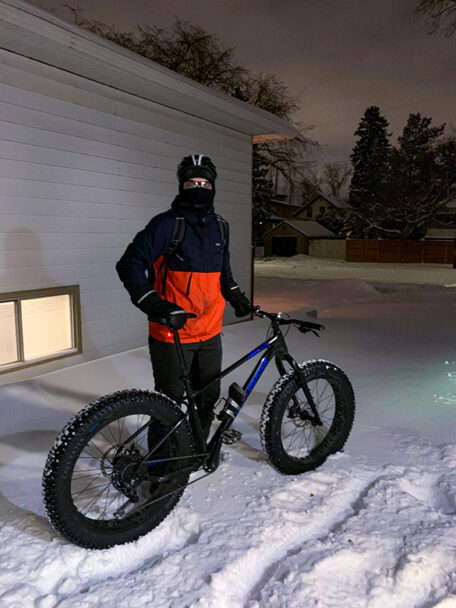 Indeed, we all know cycling has many benefits: improved health and fitness, reduced stress, reduced carbon footprint and traffic congestion. You can even save money on gas, parking, or transit. Riding a bike lets us see the city from a different perspective—solo or in a group. It allows us to experience new adventures without having to travel great distances, and it's also good, simple fun.
For Molly Turnbull, Project Coordinator at Bike Edmonton, improved bike infrastructure has been a game changer for her and many other winter cyclists. Indeed, based on her experience, it was when the City of Edmonton committed to putting in dedicated bike lanes that interest in cycling overall picked up, she says. Bike counters installed by the City "showed a huge increase of cycle commuting because of the dedicated infrastructure, and that translates to more winter cycling as well." Thanks to that commitment, more and more people are choosing cycling as their principal means of getting around in the city, no matter the season.
So why not cycle in winter? It's not just for hard core enthusiasts. As Molly says, "What are people's goals? What are people's budgets? Whatever avenue they choose, there's people who have done it with exactly the resources they're putting in."
There are as many kinds of winter cycling as there are people willing to try it. Bike Edmonton and related groups offer instruction, workshops, YouTube and TikTok videos, and more. All these resources help people feel like they're part of a community choosing winter cycling, with the practical advice and support to encourage them.
Bike Edmonton's Studded Tire Program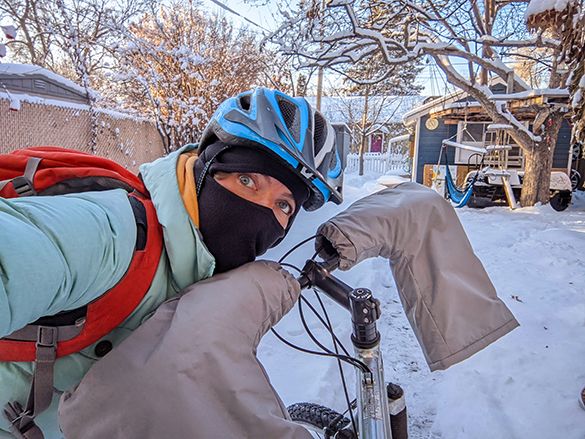 This is one of the key reasons why WinterCityEdmonton is supporting Bike Edmonton's Studded Tire Program and Challenge. The program provides selected applicants with free studded winter tires for their bikes, and a selection of educational challenges to share knowledge and instill confidence. Just like crampons help your feet stay where you put them on ice, studded tires are a game changer to help keep your bicycle on the right path. Good traction equals stability, which equals way more satisfaction and fun. As Molly says, "The program allows us to spoon feed people exactly the information they are asking for, try it on, ask more questions, try that on, and make it an easier flow, and feel like they're doing it with a bunch of people."
One participant noted, "I'm not sure I would have invested in the tires just to try it, but having them granted to me meant I could try it without a huge investment and it turns out I absolutely love it. Almost more than summer biking!"
Yuxuan's Experience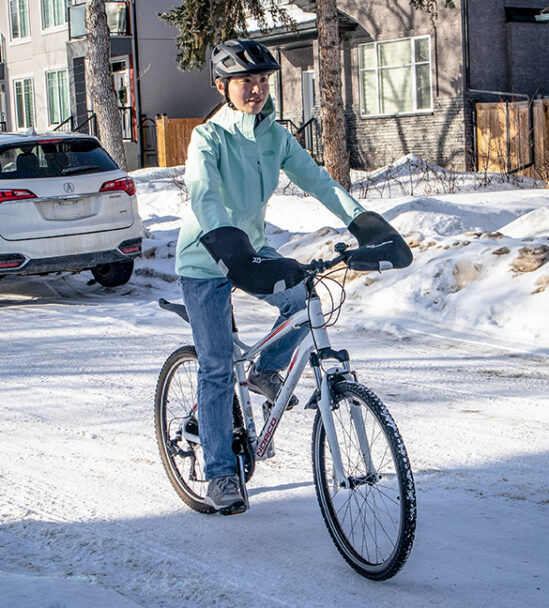 Yuxuan Hou was the very first recipient who was granted studded tires through the program in 2021. Coming to the University of Alberta from China for graduate studies, she says she knows snow and cold, but not quite like what we have in Edmonton: "Minus 15 is okay, but -20?! No way!"
Yuxuan says, "Before the program, I never tried winter cycling. Molly gave me an introduction, just at the beginning of COVID. Cycling was a good way to get some exercise. The program introduction was a very good start for me." She uses her bike in winter as her primary mode of commuting, "for transportation, for grocery shopping, and for fun," unless it's very cold. Yuxuan has made new friends and connections through winter cycling and is encouraging other friends to join in the fun.
Winter Cycling Resources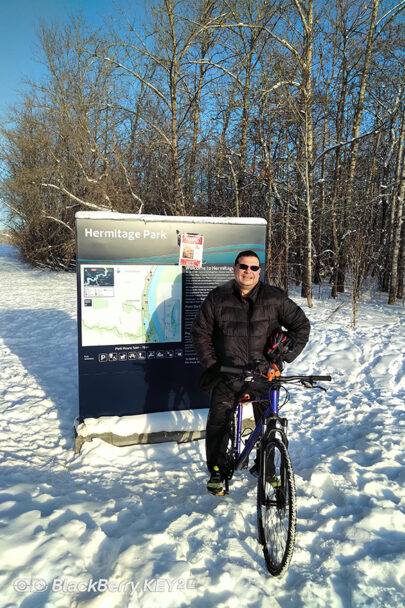 It's that social aspect that keeps a lot of winter cyclists on their bikes throughout our coldest season. And Bike Edmonton is there to provide great resources, valuable instruction, and more than 40 years of experience and advocacy for cycling in Edmonton. If you want to try winter cycling for the first time, they are the folks to help get you on the right path and inspire a new way to enjoy our fine winter city, especially through the Studded Tire Program. One of last year's selected recipients noted, "It may sound silly but I feel so proud of myself for continuing to choose person-powered transport even though it's hard work, and having the proper tires means I feel absolutely safe doing it."
Feeling adventurous and motivated to try winter cycling for yourself? This year, International Winter Bike to Work Day coincides with Edmonton's Feb 11 launch of the Studded Tire Challenge 2022. This is a fantastic way to try something new and invigorating, learn how to do it safely, and join the growing winter cycling community. Get on your bike, and go for a winter ride!
Want to try winter biking yourself? Check out our website for even more resources!