This blog post is written by Mandy Johnson, an Urban Poling Master Trainer and Nordic Walking Ambassador for Alberta.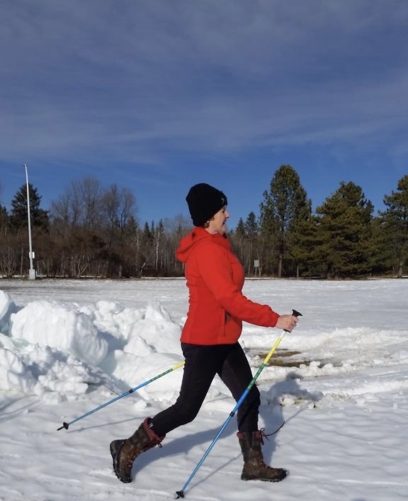 As winter draws to a close, but spring has not truly sprung, typical outdoor activities can become challenging. The ice castle has melted, the skating rinks are becoming lakes again, and soon only the die-hards will be tackling the ski trails and the slopes. But the ideal weather for hiking and biking, jogging, gardening and golfing isn't here yet either. The outdoors still beckons, but the trails can be icy or gritty or muddy or all of the above.
In this shoulder season, Nordic walking shines! It is very much like cross-country skiing, but without the skis – or the snow, for that matter. Specialized poles are purposefully planted with each stride. Pushing firmly on the poles propels you forward. The easy-to-learn technique did actually originate as dry-land training for Nordic athletes. It mimics Nordic skiing and affords walkers similar benefits:
• Uses virtually all the body's major muscle groups with every stride
• Contracts your abdominals over 1000 times per km
• Burns on average 20% more calories than walking
• Offers great cardiovascular conditioning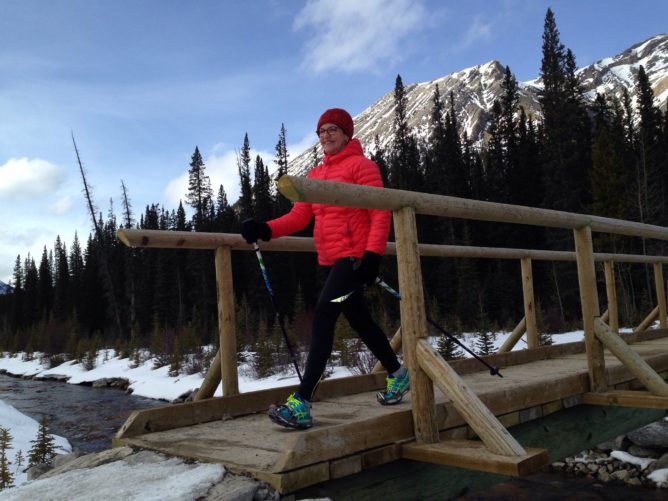 Nordic poles come with specially-designed booties that cover the same tip you find on a hiking pole. Booties "turbo charge" walks on city streets and paved recreational trails, and are the ideal equipment for exploring the paved Edmonton River Valley trails. Many people confuse Nordic walking poles with hiking poles. But hiking poles do not have the core muscle-engaging features and the noise reducing features to deal with paved surfaces. On the other hand, Nordic walking poles will take you everywhere you need to go, from city streets to mountain peaks. Some Nordic poles feature a glove-like attachment to maximize the "push and propel" phases of the technique. Others are strapless, with an ergonomic handle to engage the core muscles and that act as shock absorbers to minimize injury to the hand in the event of a fall. On the other hand, hiking or trekking poles have a simple loop strap to keep the poles attached to you at all times.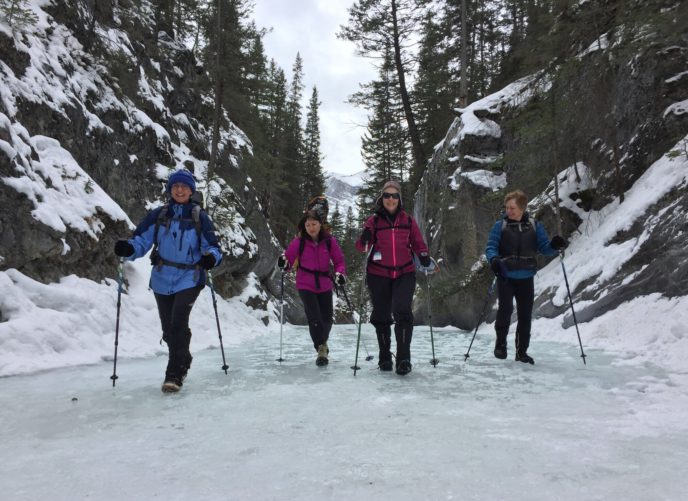 The poles provide great stability on challenging terrain, including ice and snow. You can remove the booties and use the metal tip instead. Think of them as providing "4-wheel-drive for humans." Specialized handles off-load stress from the hip, knee, and lower back joints to the upper body. These features make pole-walking a favourite activity of older adults who often have arthritic joints or have a fear of falling. But the extensive benefits of Nordic walking makes it an ideal activity for people of ALL ages, abilities and fitness levels, starting with school-aged kids. Because Nordic walking combines aerobic training & strength training, maximizing the benefit of every fitness minute you have available, it is also an ideal workplace wellness activity. You just grab your poles and go. No need to drive to the gym, change, shower, etc. Whether you have 15 minutes, or more or less time, you can get outside and absorb some essential Vitamin (N)ature.
Given these benefits, why would you want to walk anywhere without poles?!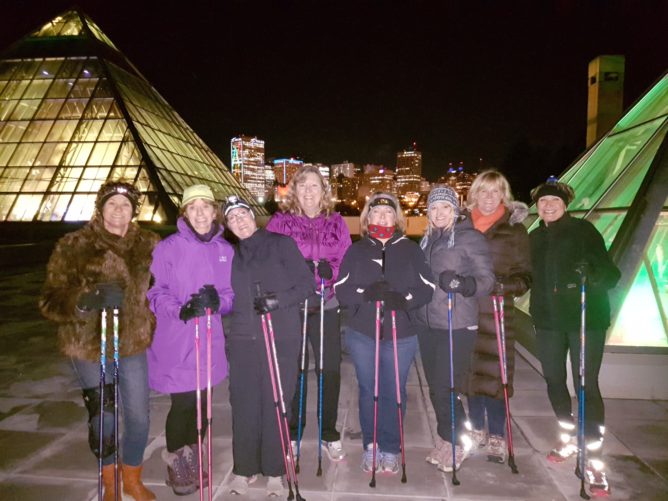 The typical answer is that people assume it is just an activity for seniors. Nothing could be further from the truth! People of all ages benefit from this form of activity, and younger people are taking it in their stride. You may also find people looking at you quizzically or commenting, "you forgot your skis!" But think of how uncommon bicycle and ski helmets were not that long ago. We are in the same situation with Nordic walking. It is an activity being enjoyed by the "early adopters," people who don't mind being seen doing something a bit different. Just ask members of the St. Albert Trekkers Volkssport Club, who have several trained Urban Poling instructors and a set of equipment that accompanies them on many walks in the greater Edmonton area.
Once people try it, the common reaction is "surprise" and even "amazement" as they feel their abdominal, chest and arm muscles working. They love the extra propulsion from the poles that encourages them to pick up the pace and stride out. They love the great pulse-quickening cardio workout without the added exertion and pounding of other aerobic activities like jogging. We hope it catches on in a big way in our city very soon.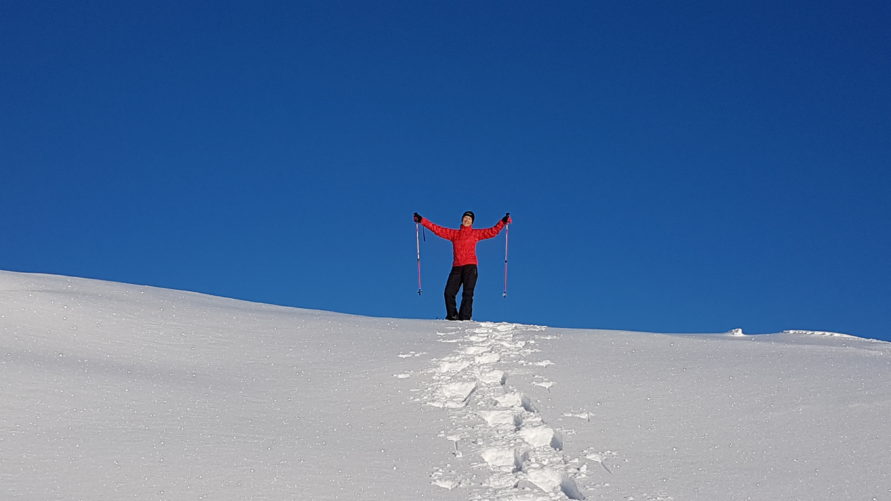 Where can you try Nordic walking? The Edmonton Federation of Community Leagues trained more than 20 volunteers to be Urban Poling instructors last year. Participating community leagues can be found on the EFCL website. Urban Poling is Canada's leading provider of Nordic walking equipment and instruction. Urban Poling instructors in the Edmonton area can be found on the find a class page of the Urban Poling website. The website also contains great instructional videos, success stories, and links to Edmonton-area retailers of Urban Poles.
Whenever or wherever you walk this month, think about all those extra muscles you could be training and toning, all those extra calories you could be burning and all the fitness fun you could be having if you just add poles.